Drilling Motors
We provide innovative solutions to a variety of drilling motor problems for a full range of applications including short and medium radius work and performance drilling in standard and elevated temperatures.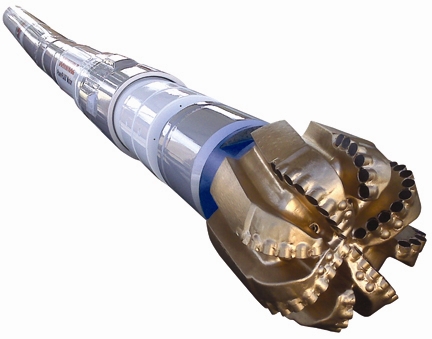 Oil Lube Bearing Assemblies
The Oil-Lubricated Bearing Assembly is capable of withstanding extreme radial and axial loads. Due to the design and axial capacity of the bearing assembly, it is not necessary to balance bit force against pump-open force. Bearing Assemblies are fully oil bath lubricated, sealed and pressure balanced. Since no drilling fluid flows through the bearing assembly, motor bearing life is extended and bit hydraulics are maximized.
Mud Lube Bearing Assemblies
Mud Lube Bearing Assemblies are designed to withstand:
Extreme drilling conditions
High bottom hole temperatures
High operating torques
High weight-on-bit loads
This makes it suitable to use with Positive Displacement Power Sections or Turbines. The Bearing Assembly features a high precision bi-directional angular contact bearing pack that gives a uniform load distribution and high weight on bit capacity. In addition, this mud lubricated bearing assembly is radially supported over its entire length and can, therefore, tolerate very high side loads.
Bi-directional angular contact thrust bearings are used in this bearing assembly to accommodate weight-on-bit loads and radial loads. An optional near bit stabilizer or eccentric pad can be used with the motor.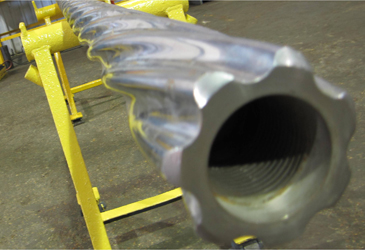 Power Sections
Power Sections are available for a wide range of drilling applications. Rotational power is provided by a moineau progressing cavity positive displacement mud motor. These are available in high speed, low torque applications and in multi-lobe configuration for low speed, high torque use.
The problem created by high bottom-hole temperatures and invert mud systems may be overcome by modifying standard rotor/stator clearances and by the use of elastomeric compounds that are less susceptible to deterioration in a hydrocarbon medium.
Drilling Motor Components
High quality drilling motor components for the oil and gas industry.
Adjustable bent housings
Drive shaft couplings
Fixed bent housings
Stabilizers
Reamers
Straight housings
Top subs
Mud lubricated bearing packs
Mono-sealed bearing packs